Quickstart Guide for Chefs
TABLE OF CONTENTS
HOW TO GET STARTED
Use your College Fresh Office 365 account to login to the Menu Portal.
Login
Need to reset your password?
support@collegefresh.net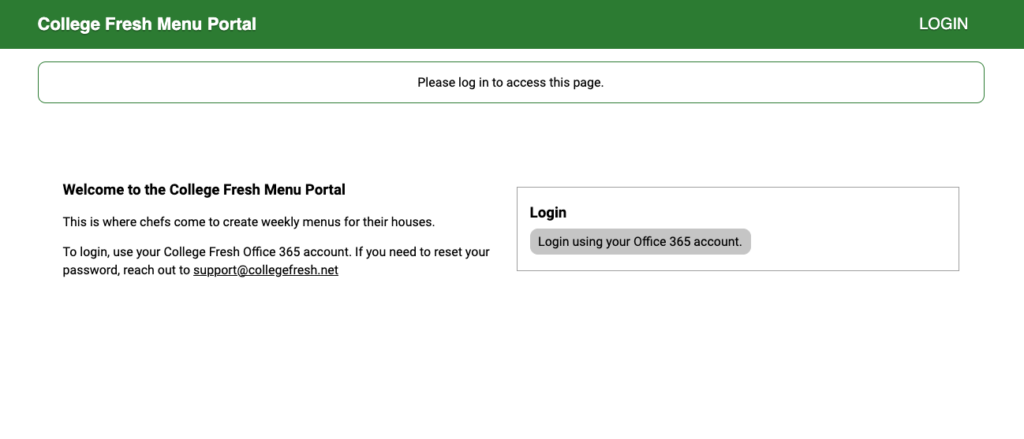 DASHBOARD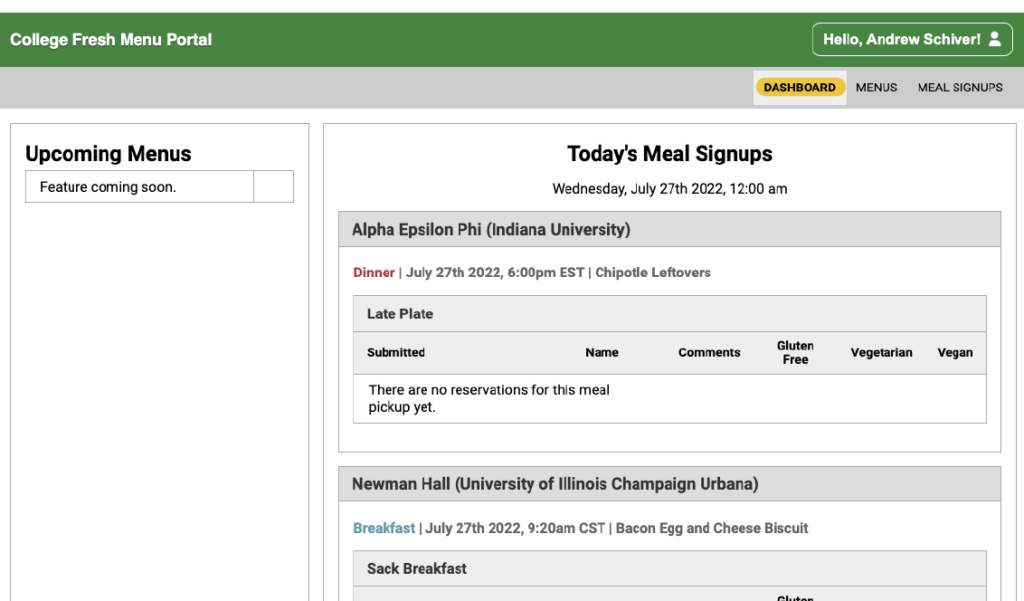 Once you login, you'll automatically be directed to the Dashboard page.
(This page can also be accessed via the gray navigation bar, in the top right of your screen.)
The Dashboard displays your Upcoming Menus, as well as Today's Meal Signups.
MENUS
To create a weekly menu for your house(s), click Menus in the gray navigation bar, in the top right of your screen.
On this page, you'll see the name of the house you serve, as well as the following features:
Weekly Menus—Create your menu here.
My Meals—Your own library of saved meals.
Meal Directory—Meals created by all chefs. Here you can "clone," or add chef's meals to your My Meals Library.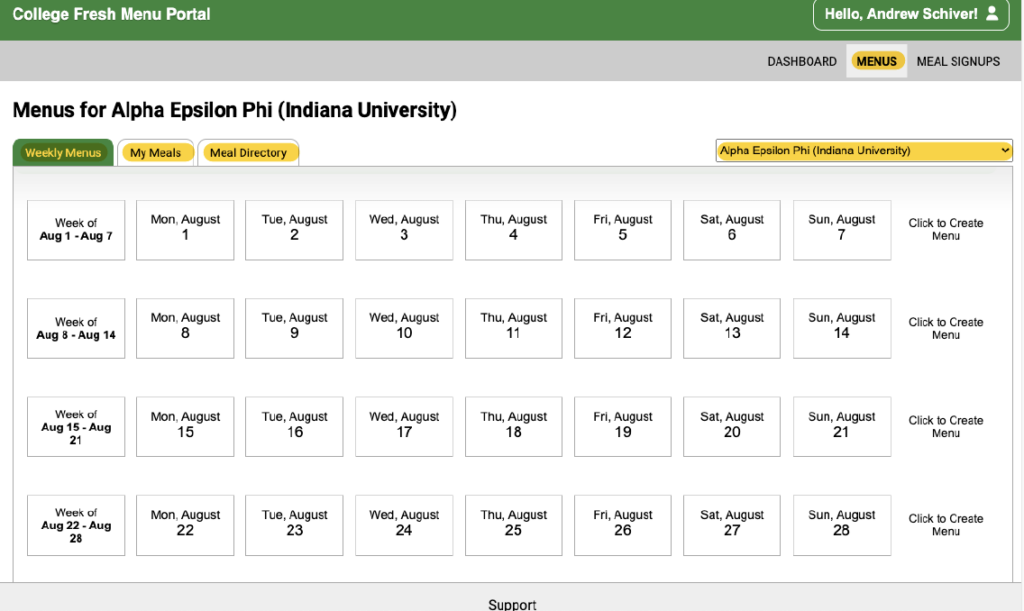 Weekly Menus
Under the Weekly Menus tab, click the week of the menu you want to create.

On the Create New Menu page, you'll go the Meals box. Click the meal you'd like to create: Breakfast, Lunch, or Dinner. (Please note that this guide uses the Day View to create the weekly menu.)

For this example, we'll click Breakfast.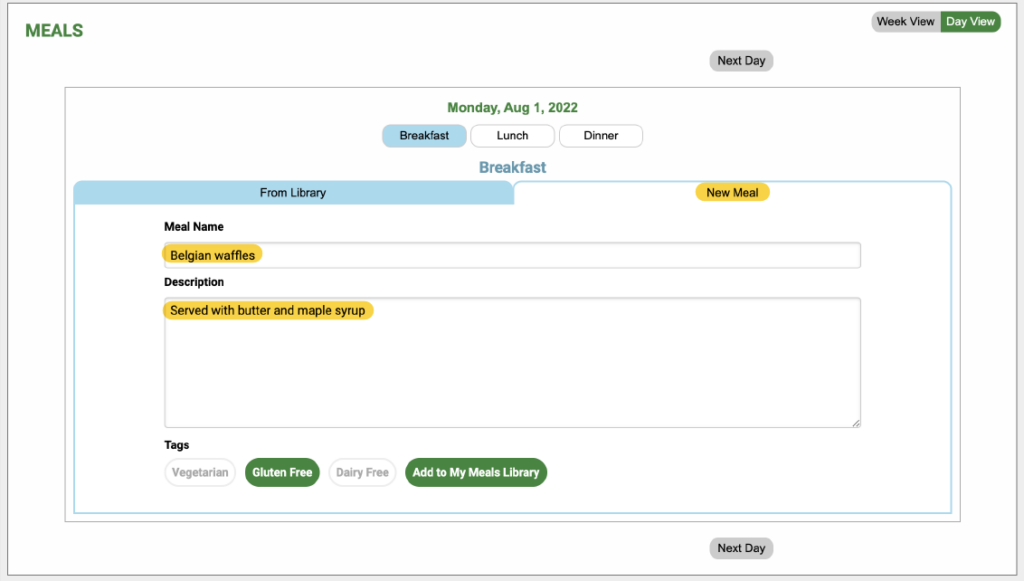 Under the New Meal tab, type in the Meal Name and add a Description.
(NOTE: Typing in a Meal Name is required—you will not be able to submit a menu that's missing a meal name.)
Click any dietary tags that may apply. In this case, we clicked Gluten Free.
(NOTE: Clicking the appropriate dietary tags—as opposed to noting them in the Description—ensures their visibility on the app and will save you extra work. See screenshot.)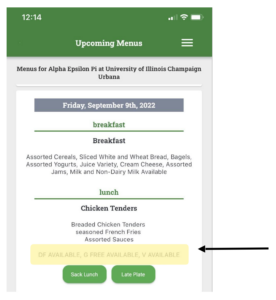 We also clicked Add to My Meals Library, in case we decide to make this a recurring Breakfast meal.
(If you click the From Library tab, you'll see all the meals you added to your My Meals Library.)

Continue creating meals for Lunch and Dinner. Make sure to indicate Active Pickups for Lunch (Sack Lunch or Late Plate) and Dinner (Late Plate) using the check box.
If you need to add or modify Active Pickup times, please contact Support (support@collegefresh.net)
When you've completed Breakfast, Lunch, and Dinner for the day, click Next Day.
Repeat the process, creating meals for the week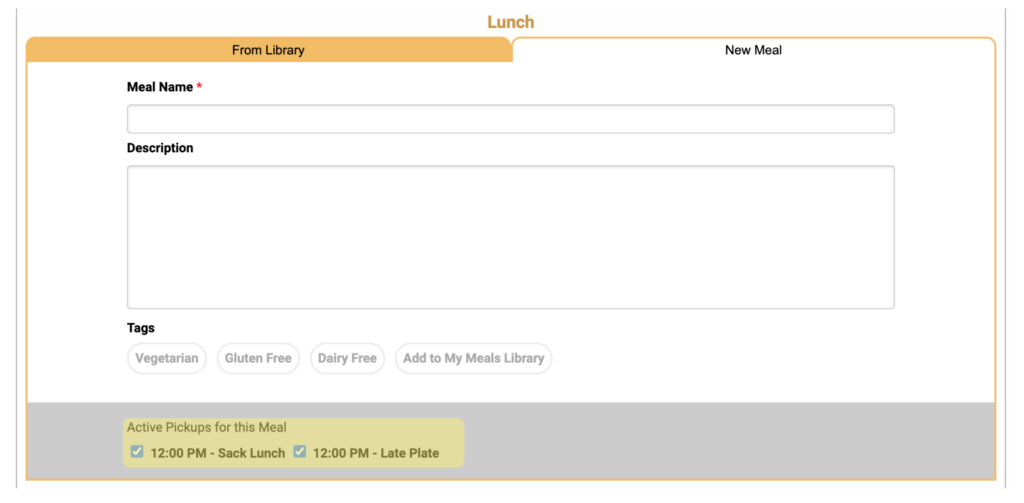 Save Draft
If you need to Save a Draft of your weekly menu, scroll down to the Status box, select Save Draft from the dropdown menu, and click Update Menu.
You can continue making updates/changes to this menu before submitting for approval by going back to the Menus page and clicking the week you want to edit.


Once you're finished editing and are ready to submit your weekly menu, scroll down to the Status box, select Submit for Review from the dropdown menu and click Update Menu.

MEAL SIGNUPS
You can access Meal Signups in the upper-right navigation.

In the Meal Signups section, you can view all reservations for meal pickups, submitted by users via the College Fresh app.


TECH SUPPORT
If you need tech support, click Support (it can be found at the bottom of each webpage).
Here, you'll fill out a form, detail your issue, and click Submit Request for assistance.
Administrators will be notified of your request, and will get back to you as soon as possible.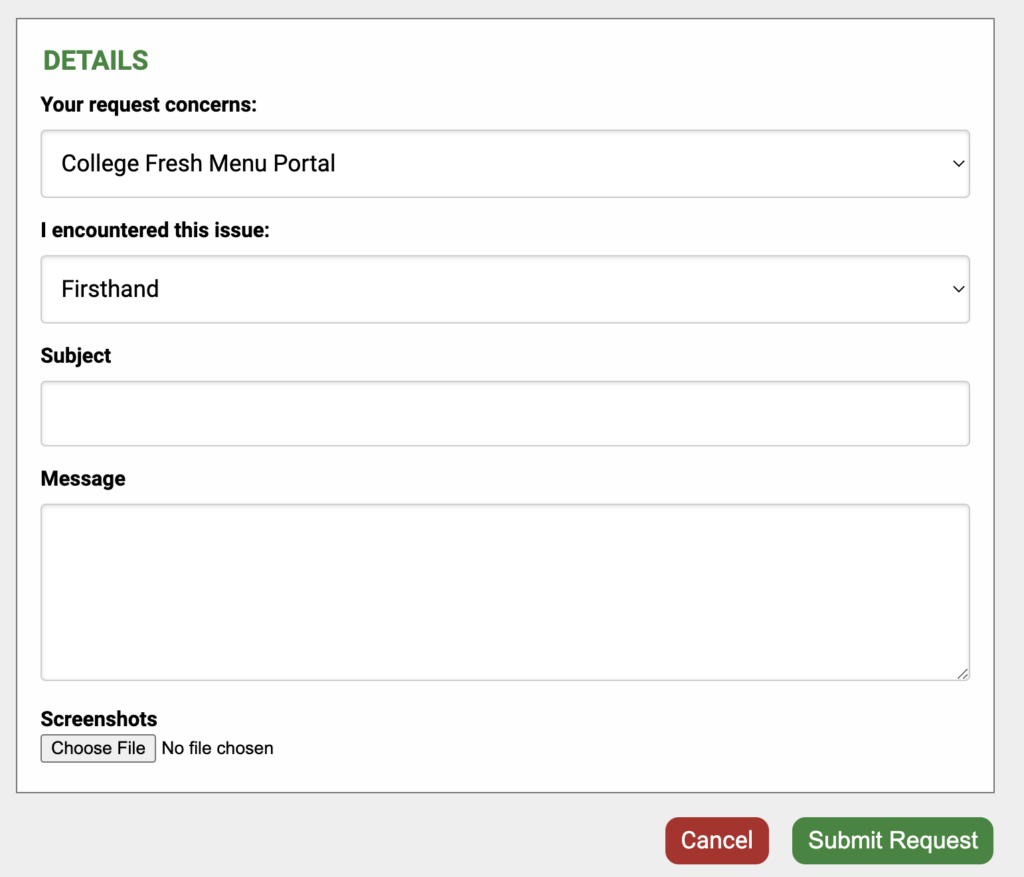 Q&A
"How do I edit my account?"
Once you're logged in, you can edit your user account by going to the top-right corner and clicking the user menu options. (Here, you can edit your account details, view and submit your tech support requests, and logout.)

Along with editing/updating your user Details on the Edit User Account page, you can also go to the Options section and choose what you want to see first when you log in (either Text—New Meal or Library Select—From Library), as well as opting out of meal pickup emails.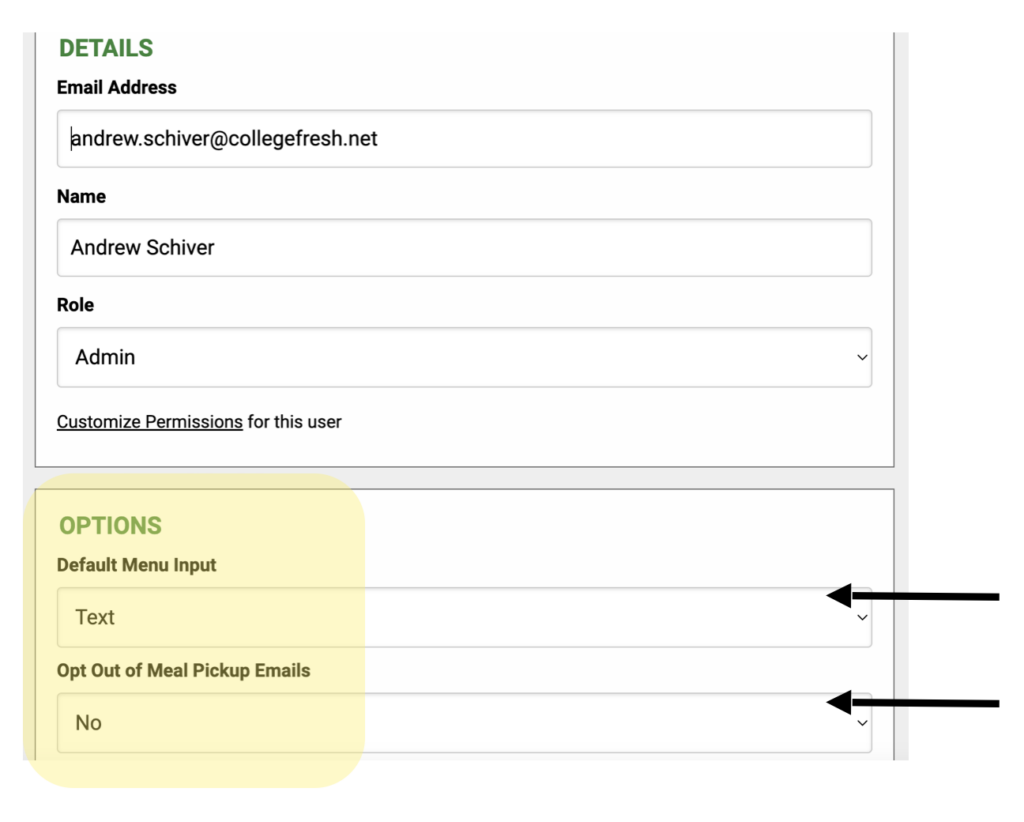 "My manager rejected my menu—what now?"
Let's say you've submitted your menu, and when you check its status, you see the message Needs Revisions Before Approval:

Click your Weekly Menu, and you'll see your manager's Notes in the Details box.
Make the necessary revisions, then submit your menu for approval again.

"Can I make edits to a Published Menu?"
Yes. In the Menus section, under Weekly Menus, select the Published Menu you wish to edit.

On that particular weekly menu page, scroll toward the bottom of the page.
Click the Edit Menu button.

You'll be directed to the page where you can select the meal you want to edit.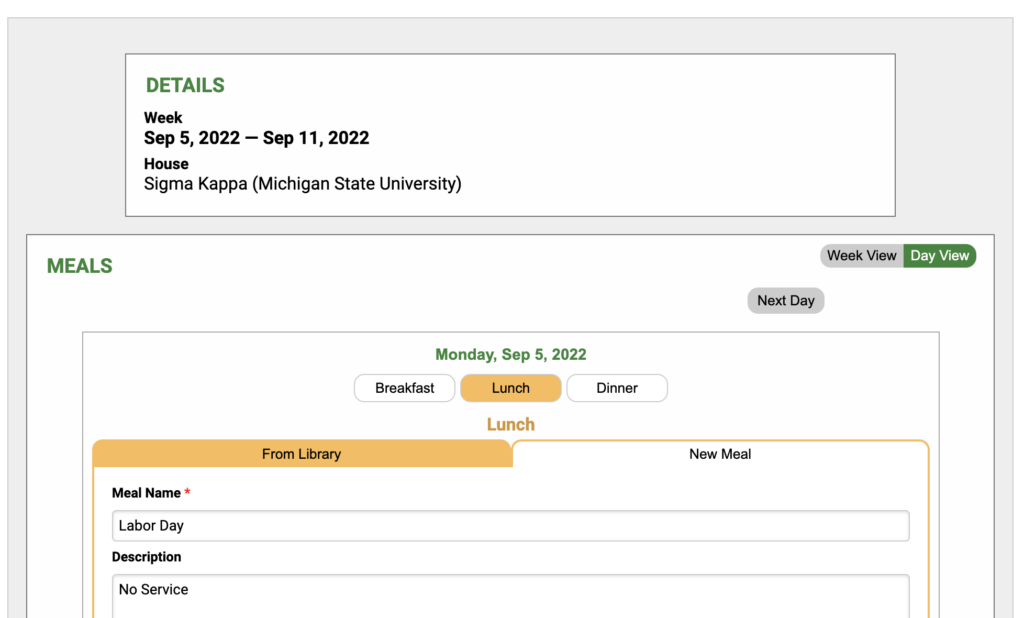 Once you make necessary edits, scroll down to the Status box, select Published, and click Update Menu.

---